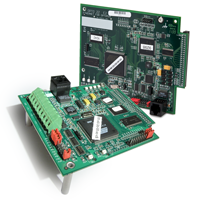 A firmware update is now available for E1 and E2 brain boards. If your current firmware is R1.1d or R1.1e, you'll want to install the new firmware. See the firmware readme for details.
For those of you not familiar with E1s and E2s, they are serial- and Ethernet-based brain boards typically used with G1 or G4 I/O systems. The E1 is for digital I/O and the E2 for analog I/O.
We designed the E1 and E2 as drop-in replacements for older serial-based B1 and B2 brain boards.
Because we can no longer obtain essential parts, we can't manufacture B1s and B2s anymore. But with a large installed base worldwide, we didn't want to leave you without options.
So if you need to replace current B1 or B2 brain boards, expand a system, or connect with other systems over Ethernet, you can use E1s and E2s and preserve your existing I/O racks, modules, and field wiring.
In addition, E1s and E2s give you more communication options. They talk Optomux over both serial and Ethernet networks. And they can also communicate over Ethernet using both OptoMMP and Modbus/TCP, so you can connect them with SNAP PAC Systems and all kinds of Modbus software and equipment over Ethernet.
For more on E1 and E2 brain boards, see Migration Path for B1 and B2 Brain Boards. You'll find:
step-by-step instructions for replacing brain boards

a video showing you how to replace boards

and more resources—including an online Jumper Configurator that lets you find out what the jumper settings mean on your brain board, or set jumpers for your network