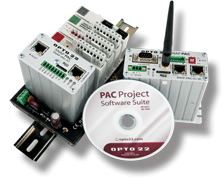 Plan ahead to enjoy the fall color and learn about Opto 22's versatile SNAP PAC System at the same time this September.
Whether you're monitoring remote pumps and valves, tracking energy data, controlling processes in a large factory, or doing a wide variety of other automation tasks, you'll find the SNAP PAC System reliable and scalable.
F.W. Webb, in association with New England Representative Martindale Associates, presents a 3-day, hands-on training class led by Opto 22's veteran trainer, Tom Edwards.
The class introduces you to SNAP PAC programmable automation controllers, SNAP I/O, Ethernet networking, PAC Control development software, PAC Display HMI, and groov for mobile operator interfaces.
When: September 22-24, 2015

Where: 1 Bon Terrain Drive, Amherst, NH 03031

Class Fee: $995.00

For more information and to register, contact:
W. Daryl Schoellkopf
F.W. Webb Co.
800.452.1928 (office)
207.649.8251 (cell)
wds@fwwebb.com