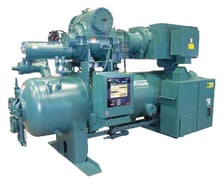 Way back in 1883, the Frick Company started manufacturing refrigeration compressors. During the next 100 years they became well known for a variety of reliable refrigeration system components.
By the 1980s Frick began automating their systems with Opto 22 products, and they began to notice a new need in the industry: custom system design and integration.
By combining design, engineering, manufacturing, and support, Frick Engineered Control Solutions met that need.
Today the controls team at Frick supports over 1500 industrial refrigeration systems installed across North America, most of them large warehouse distribution centers and food processing plants.
See how Frick designs their automation platforms and provides the most efficient refrigeration systems for their clients in this new case study.