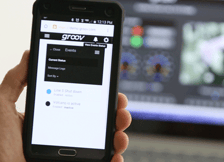 We've just released a new version of groov Build and View, version 3.0e.
This update fixes some issues you may have seen in groov when used with browsers Chrome 48 and Windows 10 Edge 25.
It also improves event reporting reliability and adds the ability for an operator to log out.
For more details on what's included in the release, see the groov Readme file.
This update is free for all groov Box and groov Server for Windows owners who have current maintenance in place. See the groov Maintenance Technical Note if you have any questions.
Get your groov R3.0e update now
To get your free update for either a groov Box or a groov Server, follow these steps:
Go to manage.groov.com and log in with your MyOpto22 username and password.
Find your groov in the list and click Show in the Details column. Make sure your maintenance is up to date.
In the Download column, click the filename that has R3.0e in the middle. (It will be the top or second item in the list.)
Save the file to your computer and follow instructions in the groov Server User's Guide or the groov Box User's Guide to install it.