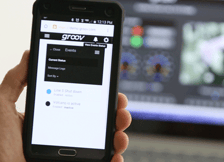 With groov 3 you can build your own mobile operator interface for just about any automation system or equipment.
You're not limited to one brand or family.
You can mix systems from multiple manufacturers on the screen if you want.
You just drag and drop gadgets on the screen and then tag them.
With groov 3 you can securely monitor or control your system from anywhere, log events, and notify users by email or text message when an event occurs.
You see only the devices and data you need—nothing extra to get in the way.
Authorized users can view your mobile app on virtually any smartphone or tablet.

No wonder groov 3 is a Control Engineering Engineers' Choice Awards Finalist.
Now it's voting time. See why groov 3 is a finalist. And if you like what you see, we'd appreciate your vote!
Voting is open now and runs through December 21, 2015. Vote for the best products in 27 categories. You'll find groov 3 near the end of the page in the category "Software—Mobile apps for controls, automation, instrumentation."