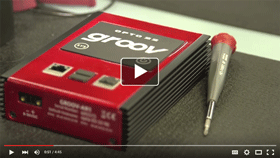 Usually our case studies feature Opto 22 customers solving an automation problem.
But this time we're the customer.
Some of you probably remember when we switched the groov Box from the larger GROOV-AT1 to the more compact, fanless GROOV-AR1.
A lot of design work went into that change in order to remove the fans, dissipate the heat, and make the Box much smaller so it would fit more easily into OEM machines and crowded enclosures. 3D digital prototyping and thermal simulation helped save time and expense during the redesign.
Opto 22 engineers Ken Johnson and Kyle Sullivan explain how and why we redesigned the groov Box in this new case study video from Autodesk.