Two new groov how-to videos show you all about: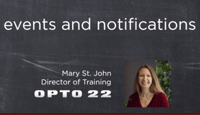 Events & notifications. Configuring events you want to log, checking event status, and using the event log with or without custom message text.
There's a lot of good information in this video, including how to filter messages in the event log and download a text file you can import into a spreadsheet.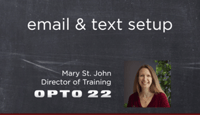 Email & text setup for notifications. In addition to logging events, you can also notify your authorized users by email or text message when an event begins or ends (or both).
This option is really handy for events that require immediate action or acknowledgment.
This video shows you how to configure the email server and user email accounts to send notifications.
---
For help using your groov Box or Server, check out all the groov how-to videos. From first starting up groov to building interface pages to quick tips, these short workshop videos take it step by step.
If you don't have groov yet, take a quick tour in this video: What is groov?
What would you like to learn next in a groov how-to video? Let us know in the comments.