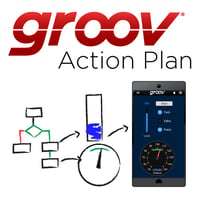 Seeing your key machines and sensors on your smartphone or tablet—whether they're in your facility or remotely located—could be mighty useful, you may be thinking.
But maybe you don't have the time or interest to develop your own groov mobile operator interface, or configure devices and set up networking.
If that's the case, take a look at the groov Action Plan.
It's a way to get your own custom mobile app—designed specifically for your automation systems and equipment—without having to build or configure it yourself.
The groov Action Plan is a bundle of engineering services we provide. You'll get:
Time with an experienced Opto 22 engineer to determine your needs
A completed, easy-to-use groov mobile app (up to 3 pages) designed for your systems
Engineering support for configuration, IT, networking, and device connectivity
The groov Action Plan is available in the U.S.A. and Canada. For more details, see the groov Action Plan Data Sheet.
Get your questions answered in a free half-hour consultation with an Opto 22 applications engineer.