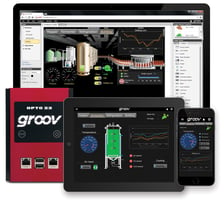 In response to your requests for more frequent groov releases, here you are: groov R3.1b is released!
This new version fixes issues and adds a new enhancement: if communication fails between groov and an I/O device, errors will be written to the groov message logs. This information can help you debug the cause of communication errors.
If you haven't updated to groov 3.1 yet, you'll enjoy the many new features—including the Image Library, options for branding pages with your colors and logo, a new Image Indicator gadget, and much more.
groov R3.1b is a free update for any groov owner with an up-to-date maintenance license. To check your license:
1. Open groov and log in. In the upper right, click the gear icon and choose Switch to groov Build.
2. Choose Configure > Licensing.
You'll see your license expiration date and other information about your license. If you need to renew your license or have any questions, visit manage.groov.com or call us at 1-800-321-6786.
Get your groov update at manage.groov.com.