Have a HART
Communicate with your smart HART® (Highway Addressable Remote Transducer) devices with these two HART SNAP I/O modules—an input and an output.
HART is the most widely used digital communications protocol in process automation, so you'll find plenty of devices you can monitor and talk to using these modules.
Both I/O modules have channel-to-channel isolation and carry a lifetime warranty.
Learn lots more about them in the HART SNAP I/O module topic page.
Switch a bigger load
With this SNAP mechanical power relay output module, you can switch loads up to 6 amps at 250 VAC or 30 VDC, right from the same SNAP PAC rack you use for other analog, digital, and serial signals.
The SNAP-OMR6-C has four mechanical contacts, each switching AC or DC power, and each can be wired as normally open or normally closed.
Here's more information in the SNAP mechanical power relay module topic page.
And more...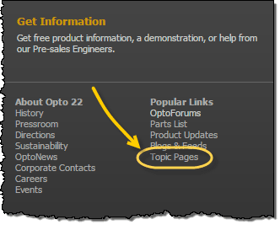 Check out all our Topic Pages, each one focused on one subject, like these:
Find Topic Pages from any page on Opto22.com. Just scroll down to the bottom-right corner of the page and click the link.