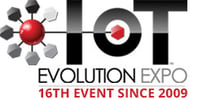 Are you thinking about your Internet of Things (IoT) strategy? Join us in Las Vegas, Nevada, for the IoT Evolution Conference and Expo, July 11-14, 2016.
You can take advantage of networking opportunities, informative conference tracks, and an expo that will introduce you to IoT and Industry 4.0 concepts and strategies.

Visit the Opto 22 booth (#408) to try a demo, ask your IoT questions, and see how you can utilize your existing systems now in an IoT strategy to make your business more competitive.
Be sure to hear Opto 22's Director of Technical Marketing, Matt Newton, who is a guest speaker at the conference and will participate in several panel sessions. Check the program agenda for scheduling.
Only interested in the expo? Download your free expo pass as a guest of Opto 22.
More information and registration