When you buy a new SNAP I/O module today, you may find that the printing on it looks a little different from ones you already have.
Don't be concerned; there's no difference in how the module functions.
It's still the same reliable analog, digital, or serial module, still individually tested twice.
It still comes with free Product Support from our experienced engineers in Temecula, California.
And it's still ready to keep on working for years and years.
We've just made room for additional agency approval markings and have standardized the pad print for all SNAP I/O.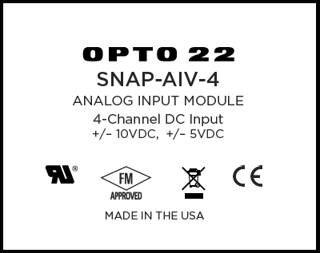 On the front of the module you'll now see:
Part number
Module type and signal
Agency approval icons
"Don't put it in the trash" reminder
Made in the U.S.A.
See image at right for an example.
On the back you'll find:
A handy wiring diagram, as before
Additional details on agency approvals
Warranty information
Opto 22 address and website
The back looks something like this:
So don't be surprised when you see that your new module looks a little different. It's still the same reliable Opto 22 I/O.
Let us know what you think of the changes. And thanks for buying SNAP I/O!