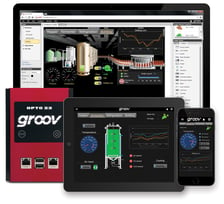 Announcing groov 3.2 for the groov Box and groov Server for Windows.
In the new release:
View system information in your groov interface. Show operators the time and date. Show groov admins the number of current user sessions, CPU usage, uptime, and more. The new System device includes these tags.
In groov View, download data from a Trend pen to a .csv file.
See the groov version in groov View by clicking the gear icon and choosing About.
Enjoy improved graphics on high-resolution displays and better contrast on page elements.
Is the update free?
groov R3.2 is a free update for any groov owner with an up-to-date maintenance license. To check your license:

1. Open groov and log in. In the upper right, click the gear icon and choose Switch to groov Build.
2. Choose Configure > Licensing.

You'll see your license expiration date and other information about your license. If you need to renew your license or have any questions, visit manage.groov.com or call us at 1-800-321-6786.
Important: On a groov Box, make sure you have installed groov Admin version 1.570.43 before you try to update to groov 3.2. To check your Admin version, in groov Build choose Configure > groov Admin, log in, and click View System Information. If you need an Admin update, get it on manage.groov.com at the same time you get groov 3.2.
See the groov App Readme for more on enhancements and bug fixes in groov 3.2.
See the groov Build and View User's Guide (form 2027) for details on the new features.