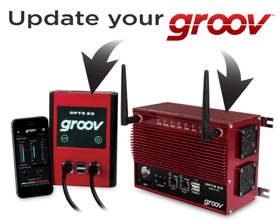 Are you concerned about security?
Is Firefox your favorite browser?
If you answered yes to either question and are using a groov Box appliance, you'll want to get the latest groov Admin update.
groov Admin 42 reinforces groov security and addresses changes in Firefox that may have caused some of you some trouble. Browsers constantly change, sometimes in small ways you don't even notice and sometimes in bigger ways. In response to their changes, we change groov.
One thing to note: If you have the older groov Box (the larger one in the image), part number GROOV-AT1, make sure you've installed groov Admin 41 before you install the newer groov Admin 42. You must have 41 as a base before you can go any higher.
Here's how to get your groov Admin update:
1. Go to manage.groov.com and log in with your My.Opto22 email and password.
2. Locate your groov Box in the list. In the Details column for the Box, click Show.
3. In the Updates section, groov Admin should appear first in the list of updates. Click the filename ending in 1.570.42_admin.upgrade to download it.
Remember, if you have a GROOV-AT1, also download 1.570.41_admin.upgrade and install it first.
4. Follow steps in the groov Box User's Guide for your Box to install the update:

groov Box User's Guide for GROOV-AR1

groov Box User's Guide for GROOV-AT1
Questions? Call Opto 22 Product Support. All Opto 22 products include free product support from the experienced engineers in our California headquarters and factory.