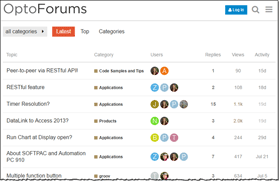 Have you been on the OptoForum lately? It looks different—clean and modern—and it's easier to use, too.
It's easy to see the latest posts in one category, or in all of them.
Also easy to see who's on a thread.
Search works great.
Asking a question is simple—just click the + New Topic button. (You have to be logged in to see it.)
And it works well on your phone!
The same content is still there from before, so you can find old favorites, start new threads, and add to ones already in place.
Applications (software), Code Samples & Tips, and groov are the most active categories, but you'll find other useful ones as well. Try out the buttons at the top to see different ways topics are shown.
Hope you like the new OptoForums as well as we do! Be sure to let us know what you think.