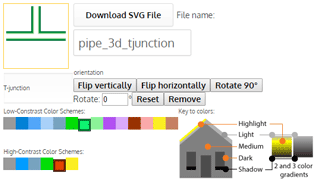 More new graphics for you in the groov SVG Library...
If you use pipes in your groov operator interface, you'll appreciate these new images: pipes, elbows, junctions, simple tanks, pumps, valves, meters, and more.
The images are designed so their parts will line up even when scaled.
Thanks to OptoForum poster born2see for the request, and to Opto 22's John Garrett for the fast turnaround. John is asking for additional graphic suggestions, so feel free to add your requests in the comments below or in the forum post.
Get the graphics now. Click the link, or visit groov.com and click SVG Image Library under the Support tab. For the pipes and fittings, look for "Flow images (matched set)."
If you haven't seen the image library yet, you'll find it's easy to use. At the top of the page you'll find a link to a short video showing you how it works. You can apply different colors, flip, and rotate all the graphics in the library to suit your needs. Have fun!