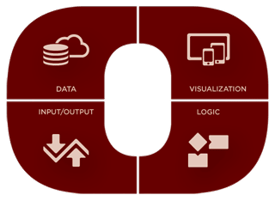 Why is there so much talk about the Internet of Things (IoT)? Because companies are increasingly looking for data-based information to improve their operations.
Data from industrial systems in factories and processes

Data from sensors and devices in

remote locations

Data from company databases and spreadsheets

Data available from online services and cloud platforms
It's now possible to pull this data together and use it in ways we haven't been able to before: to see potential problems before they occur, to make processes more efficient, to improve decision-making.
Our new webinar, Opto 22 and the IoT, introduces you to:
Industrial IoT concepts

IoT opportunities to improve your business

Opto 22 products and how they can help

Real-world IoT examples, including goals, challenges, solutions, and results
Join us on Thursday, October 26 and learn something new about IoT application development, big data, and analytics to help you.
Webinar: Opto 22 and the IoT - An Introduction
When: Thursday, October 26, 2017
Time: 9:00 a.m. PDT (Pacific Daylight Time)