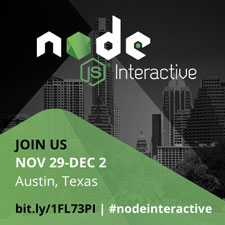 Here's a chance to learn more about the latest Internet of Things (IoT) technologies, November 29 through December 2 in Austin, Texas—and at a 20% discount.
If you're a JavaScript developer (or might want to be), join us at Node.js Interactive North America.
Opto 22's Matt Newton will give a technical workshop on Porting Maker Board Designs to Industrial Grade Systems to Build the Real Internet of Things. Join us at the workshop on Tuesday, November 29th at 1:50 p.m.
You'll see:
Industrial applications that deliver real value using IoT technologies
How to prototype IoT applications quickly on maker boards like Raspberry Pi
Design considerations for accessing data and making it available to cloud-based systems using Node.js, Node-RED, and MQTT
See the complete conference agenda.
Node.js Interactive North America
When: Nov 29 - Dec 2, 2016
Where: JW Marriott Austin in Austin, Texas, U.S.A.
Register to attend - Use your Opto 22 special registration discount code: OPT20NJS