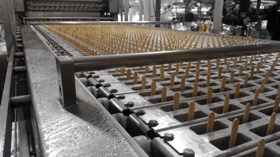 Tasty and wholesome, the frozen fruit bars made by Natural Fruit Corporation must be stored at precise temperatures.
Although their cold storage rooms were automated, on weekends operators used to have to stop by the company's factory to verify that systems were running and temperatures were within range.
This new case study explains how Natural Fruit's Project Manager Jonathan Bravo improved efficiency and reduced costs with a new system for remote monitoring and control.
Read the Natural Fruit Corporation case study.