What could cognitive computing do for you?
Cognitive computing involves analyzing huge quantities of data and spotting correlations and patterns that are valuable—similar to what a human brain can do. But computers can analyze lots more data, much faster.
So predictive analytics and data analysis through cognitive computing can do things like:
Anticipate part failure and order replacement parts before there's a problem
Determine safer ways for technicians and operators to work
Improve manufacturing efficiency against a standard
And much more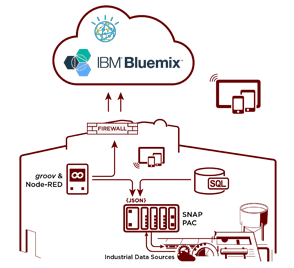 The IBM® Watson IoT™ Platform is a great way to get started, providing cloud-based analytics for your data. And since Opto 22 is now an IBM Watson IoT partner, you have an end-to-end toolset to connect your existing equipment to IBM Watson.
Opto 22 SNAP I/O connects directly to your sensors and equipment, converting their electrical signals into the digital data computers understand.
Our SNAP PAC programmable automation controllers not only provide local I/O control and edge data processing, but also include a RESTful API for exchanging data with cloud services like IBM Watson IoT.
Opto 22's groov lets you easily visualize and interact with your system from anywhere, using a simple operator interface on your smartphone or tablet. So when Watson IBM IoT spots a problem and a work order is sent out, your technician gets it right away.
Want to see how it works? Watch our video, Get real-world data into the cloud with IBM Watson IoT.