Does it comply?
For some time now we've been working to make sure our products comply with the latest requirements for RoHS (Restriction of Hazardous Substances) and CE marking (a mark indicating that the product meets all legal requirements to be sold in the European Economic Area, or EEA).
The vast majority of our products now meet these requirements and are listed in this document: Opto 22 RoHS 2 Statement of Compliance - Restriction of Hazardous Substances.
When you look at a product on our website, you'll see RoHS and CE icons for each product that complies. For example, take a look at the SNAP-AIMA current input module. You'll see the icons for all the standards and agencies this product complies with: RoHS and CE, plus UL, Factory Mutual (FM), and the Defense Federal Acquisition Regulation Supplement (DFARS).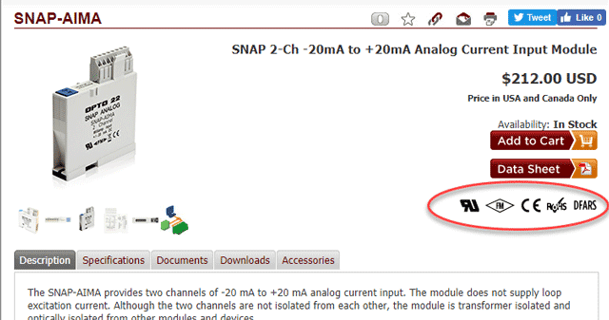 Other places to see this information:
Specifications tab on the product page (look for "Agency Approvals")
Product's data sheet, in the Specifications table (click the Data Sheet button to view it)
Questions?
As always, if you have any questions about our products and whether they're suitable for your application, be sure to contact our friendly Pre-Sales Engineers.
Pre-sales engineering is free, and we're happy to help.