Have you tried AT&T's Internet of Things (IoT) platform, M2X?
If you're looking at IoT platforms, you'll want to see this new technical note. It shows you how to get real-world data, in this example a temperature in degrees F, to an AT&T M2X device in the cloud.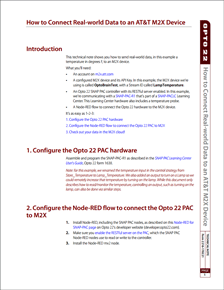 You'll need an Opto 22 SNAP PAC controller (R‑series or S‑series), and you'll be using the PAC's RESTful API and HTTP/S server.
You'll also need an account on m2x.att.com (you can start for free) and a configured device there.
The example in the tech note uses a SNAP-PAC-R1 that's part of a SNAP-PACLC Learning Center. The Learning Center is handy for experimenting and proofs-of-concept, because it includes SNAP I/O modules and a load panel, as well as the PAC. You can program the PAC and see everything work, right there.
Get the tech note and try AT&T M2x now.