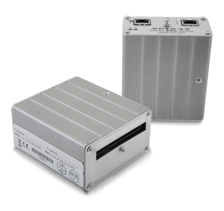 Next time you buy a SNAP brain or SNAP PAC R-series controller, you may notice something new: an aluminum base plate instead of the older black or blue plastic one.
We're constantly looking for ways to improve our existing products (as well as designing new ones), and this change is one result.
While our SNAP brains and rack-mounted controllers were already very noise immune, the new addition of an aluminum base makes them even more immune to electrical noise.
We're gradually phasing in this change over the next few months. So don't be surprised when you see the silver-colored base plate!
Questions? Comments? Contact Opto 22 Product Support. Remember, Product Support is free for all products.
Did you know?
Opto 22 SNAP PAC brains provide distributed I/O processing and communications. Mounted on the rack next to SNAP I/O analog, digital, and serial modules, they distribute intelligence to local I/O.
What does that mean? It means that counting, latching, pulsing, watchdogs, analog ramping, min/max value tracking, and many more functions—even PID loop control—will continue even if the I/O can no longer communicate with the controller.
SNAP PAC R-series controllers are also rack-mounted and combine all the functions of a brain with programmable control. R-series PACs are perfect for cell control or smaller installations. They're available with high-speed digital functions, wired or wireless capability, and Factory Mutual approval, so you can choose the model you need.