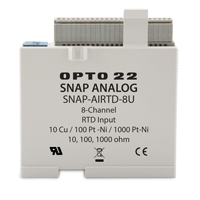 Actually you can buy this flexible analog input module right now. You'll just need a SNAP PAC brain or R-series controller with firmware R9.5a in order to use it—coming soon!
Designed for 3-wire RTD temperature inputs or high-resolution resistance measurement, the new SNAP-AIRTD-8U analog input module has, yes, 8 points, each individually software configurable.
Each point can be configured for:
a fixed temperature range for nickel, platinum, or copper RTD inputs
a fixed range in ohms
two types of auto-ranging, where the module scrolls within a range (in ohms) and chooses the best resolution
The module sports a plug-in terminal with spring-clamp connectors for easy wiring. You're ready to wire with the insertion tool we send you in the box with the module. The module also features open circuit detection if any wire breaks.
Since all 8 inputs share the same reference terminal, make sure you use isolated RTD probes.

See the specs and order your new SNAP-AIRTD-8U module now.