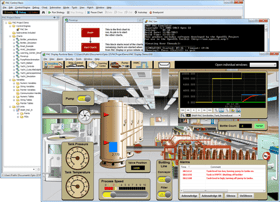 Interested in Opto 22 SNAP PAC controllers, but not sure how they're programmed or what our automation software is like?
You can find out now with the PAC Project Demo.
This free download includes everything you need to experiment with Opto 22's PAC Project automation software suite:
PAC Control development software and a pre-made control strategy
PAC Display HMI software and a pre-made HMI project that includes a yacht, a bottling plant, a heating and air conditioning system, and more
SNAP PAC Sim, a PC-based controller, so you can try the demo without needing hardware
The PAC Project Demo Quick Start pdf, which shows you how to run the demo
Be sure to take a look at the sample PAC Control strategy. You'll notice it's flowchart-based programming, with optional scripting that can save time for complex looping, string handling, and math functions. All variables and I/O have understandable names you give them, and commands are in plain English.
The sample PAC Display HMI shows the complex screens and graphics you can make. PAC Display offers a full-featured HMI with alarming, trending, and security.
Opto 22 SNAP PAC controllers are field-proven and reliable. Take the PAC Project Demo test drive, and see how easy it is to program and use them.