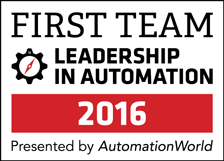 We're honored to be chosen by Automation World readers as a preferred supplier!
Every year as part of their Leadership in Automation Program, Automation World asks their readers—that's you—to choose their go-to suppliers. These are the automation equipment manufacturers that automation engineers most trust.
What makes this survey special is that it's open ended. You don't have a set list of suppliers to choose from. Instead, you have to write in the suppliers you prefer. Which means you really have to know them.
For 2016, you chose Opto 22 as a First Team Honoree in two areas: Data Acquisition Hardware, and Mobility.
Data Acquisition and more. Our versatile SNAP PACs and guaranteed-for-life SNAP I/O are ideal for data acquisition—and for monitoring and control, as well.
Reliable Opto 22 PACs and I/O give you distributed intelligence for data acquisition and processing at the edge, a must for the IIoT (Industrial Internet of Things).

Use the free PAC Project software to program the PAC.
Access controller data through the PAC's RESTful API, using your programming language of choice.
Mobility, simplicity, connectivity. As for mobility, with Opto 22's groov you can easily build and use a mobile operator interface to monitor and control any sensors, equipment, and devices—not just ours.
Build a clean operator interface with drag-drop-tag ease. Unlimited tags.

Include only the equipment and data each of your users needs to see or control.

View your custom interface on smartphones, tablets, PCs, even web-enabled HDTV.
Take advantage of built-in encryption, authentication, and other security features.
And remember...
You can rely on our 40+ years of experience in automation. When you buy from Opto 22, you always get:
Did you vote for Opto 22 in the Automation World survey? If so, thank you!
If not, give us a try. Read more about us on the Automation World website. Then call Opto 22 and talk with a real person. We'll do our best to become one of your First Team suppliers.