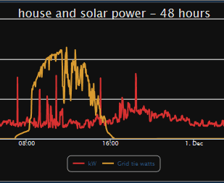 Suppose you have an analog input—maybe it's a flow meter, for example—and you want to know not only the current flow rate, but also the cumulative flow over time.
How many gallons went through that pipe over the last 24 hours, or over the last month?
If you're using an Opto 22 analog input module and PAC Control, you're in luck.
Thanks to the brain's distributed intelligence and built-in commands in PAC Control, you can get your analog totals without any complex math calculations.
Opto 22's Director of Training, Mary St. John, shows you how in her latest OptoForum mini-lesson: Analog Totalizing 101. Her example totalizes watts per hour produced by a photovoltaic system, but the principle is the same for any analog totalizing task.
SNAP PAC brains and R-series rack-mounted controllers include a number of built-in digital and analog I/O features to make it easier to get the data you need:
latching
counting and quadrature counting
pulse generation and measurement
frequency and period measurement
watchdog timeouts
totalizing
min/max values
scaling
clamping
ramping
filter weight
thermocouple linearization
PID loop control
All these features are processed locally. Pretty handy. Note that some of them do require a high-speed brain or controller, like the SNAP-PAC-R1 or SNAP-PAC-EB1. (The SNAP PAC Brain and Controller Comparison Chart shows details.)
See how to get those analog totals in Analog Totalizing 101.