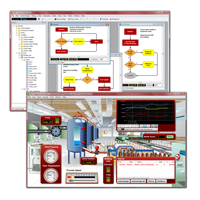 Here's a handy compilation of our most popular—and most useful—examples for PAC Control and PAC Display: PAC Project samples Greatest Hits.
This collection includes sample files we've created plus files you've posted to the OptoForum. (Remember that samples are provided "as is" and are not guaranteed or official Opto 22 products.)
Samples are helpful in a lot of ways:
See the whole list of PAC Project sample files greatest hits.

Questions? Comments? Contact Opto 22 Product Support or ask a question on the OptoForum.