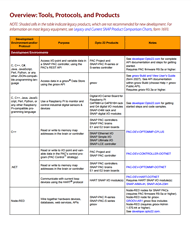 So you know .NET—or Modbus—or Python—or HART. Can you use those development tools and protocols (or many others) with Opto 22 products?
You'll find the answer in our new technical note, Communication Tools & Protocols for Opto 22 Products.
Because Opto 22 products are built on open standards, chances are that the tools and protocols you know will work with them. Some may require free Opto 22 software development kits (SDKs) or integration kits, but many are supported right out of the box.
So in addition to monitoring and controlling sensors, machines, and equipment, you can exchange data with devices, databases, systems, software applications, and web services.
That can make data available for integration, storage, analysis, and Industrial Internet of Things (IIoT) applications.
Take a look at the Communication Tools & Protocols tech note and see which options you'd like to use.
As always, contact our Pre-sales Engineers if you have any questions or would just like to talk with someone knowledgeable about your application.