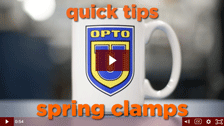 Some recent Opto 22 products, like the SNAP-UDC-HDB breakout board and the 8-channel SNAP-AIRTD-8U analog input module, use new spring clamps for wiring field devices.
These spring clamps are faster for wiring and take up less space than the screw type, so they're a real advantage.
They may be a little tricky till you get used to them, though.
Here's Opto 22 Engineer Kyle Orman to show you quickly how to wire using the new clamps.
Note that for the SNAP-UDC-HDB, you can use a small flathead screwdriver to activate the clamp. For the SNAP-AIRTD-8U, the connector holes are smaller. So we've included a handy tool in the box with the module for your convenience. Save the tool!