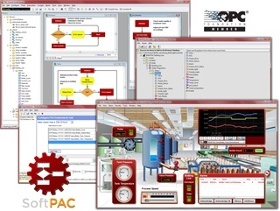 Announcing the release of PAC Project R9.6000, with new features, enhancements, and bug fixes—available now.
PAC Control
Here's good news for system integrators, OEMs, and others who build PAC Control strategies for users who don't have PAC Control on their systems. PAC Control now provides a command-line interface (CLI)
you can use to:
Compile a strategy to a CDF file
Add a variable to a strategy
Move modules in a strategy
Move points in a strategy
You can perform individual operations from a regular Command Prompt window, or run a series of operations from a Command file. You can also use the command-line interface to load a strategy in PAC Control's graphical user interface.
PAC Display
PAC Display adds the ability to control the transparency of windows and graphical objects. This new feature is great for making windows and controls (like SuperTrends and alarm graphics) invisible or semi-transparent in Runtime.
The transparency feature also lets you create non-solid (for example, dotted or dashed) lines with widths greater than 1 pixel. (Before R9.6000, only solid lines could be wider than 1 pixel.)
Also in PAC Display, history alarm graphics offer a new Clear button, so operators can clear the list of alarms in alarm history windows.
Other changes in 9.6000
This major release also includes multiple enhancements to PAC Control, PAC Display, PAC Manager, and OptoDataLink, as well as bug fixes.