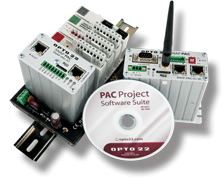 Opto 22 products are known for their reliability.
But if your SNAP PAC System—SNAP PAC controllers and brains, PAC Control strategy, PAC Display HMI project—isn't working the way you expect, we have some good resources to help you troubleshoot issues.
RTFM
It's easy to forget to Read The Fantastic Manual, but your user's guide is the first place to look. Most user's guides have a section to help. The PAC Control User's Guide has a Troubleshooting appendix, for example, and chapter 4 in the SNAP PAC R-series Controllers User's Guide is entitled, "Maintenance and Troubleshooting."
Here's a handy list of the key SNAP PAC System guides.
KB
If the user's guide doesn't help, next check the OptoKnowledgeBase to see if the symptoms you're having have been reported as an issue. If so, a KB article can help you work around the issue or see what version of software or firmware solved the problem, so you can download it.
Forum
Depending on the issue, you may want to post a question in the OptoForum. Especially if it's at a time when we're not in the office, other Forum users can be a big help.
PSG
If you're still having trouble, it's time to contact Opto 22's Product Support Group (PSG). But before you do, first get some key files to help PSG engineers analyze the situation quickly. Follow steps in the Quick Guide: Troubleshooting Info from SNAP PAC Systems to make the files and send them to us.
And remember, Product Support is always free with all Opto 22 products. The experienced engineers in our Temecula, California, headquarters and factory are available to help you Monday through Friday from 7 a.m. to 5 p.m. Pacific Time.
If you're outside North America, you'll want to contact your local Opto 22 Distributor for assistance. Your distributor can help you in your native language and at a time that's probably more convenient for you.