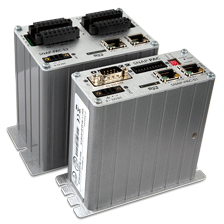 We've just released PAC firmware version R9.4c.
This updated firmware is for SNAP PAC controllers (S-series, R-series, and SoftPAC), SNAP PAC brains (Ethernet and serial), and G4EB2 and G4D32EB2 brains.
PAC firmware R9.4c:
Improves response time when successive TCP requests are made

to the memory map, scratch pad, or I/O points on the OptoMMP port (2001)

Enforces HART preambles limit of 5 to 20 for SNAP HART I/O modules
Resolves several issues
Includes a new memory map address to support the SNAP-AIRATE-HFi high-speed analog rate input module. This module returns a 32-bit value, so the new address supplies an Out Of Range Value (32-Bit) to accommodate the larger value. If the input is outside the module's input range (or the

field signal is disconnected)

, the default of -2147483648 is returned. Most other analog modules use the Out Of Range Value (16-Bit) address.
For complete information on changes and fixed issues, see the PAC Firmware R9.4c Readme.