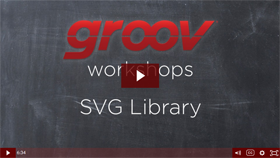 Wouldn't it be handy if you could easily create your own images to use in your HMI?
Especially if those images were smart enough to scale to fit your phone or tablet or computer or HDTV?
Take a look at this video introducing our SVG Image Library. Choose a drawing from a wide variety of industrial, commercial, and building equipment plus symbols, transportation and science images, and so much more.
You can change colors on the drawing, rotate or flip it, and then download it as an SVG (scalable vector graphics) image to use as you wish.

SVG images are ideal for use in web-based operator interfaces like the ones you build in groov. These HMIs are viewable on any size screen, from a small smartphone to a wall-mounted large web-enabled television screen. The graphics automatically scale to fit the size of the screen you view them on.
Watch the SVG Image Library video.