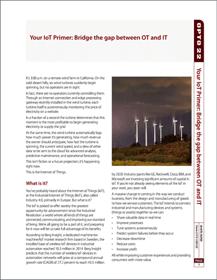 You've been hearing about the Internet of Things (IoT), also called Industry 4.0, the Industrial Internet of Things (IIoT), or machine-to-machine (M2M).
This new, free IoT Primer helps you understand how the IoT will affect your job and your life.
It defines the IoT and technologies used in the IoT. It also discusses how Operational Technology (OT, which includes automation) and Information Technology (IT) are converging to make the IoT work.
Find out why the Internet of Things is important to every business.
Understand the challenges facing IoT adoption and rollout.
Learn about IoT technologies.
Check your ROI on IoT expenditures.
Learn the 3 steps to develop your IoT strategy: see where to start and how to be successful.