New groov enclosures provide protection and convenience for your groov EPIC and groov RIO products.
Opto 22's mechanical engineering team has just released two new products designed with our customers' groov systems installation projects in mind. If you are using groov EPIC or groov RIO for your applications, we now offer two options for wall-mounted enclosures to keep your systems protected and easily accessible. Both enclosures are made of sturdy polycarbonate, have a transparent cover, and are a handy size for small areas.
GRV-ENC-POLY-SM:
This smaller IP69-rated enclosure can hold two groov RIOs side-by-side or one RIO and one groov EPIC processor on a GRV-EPIC-CHS0 chassis. While the top DIN rail accommodates several combinations, the bottom rail can hold accessories like terminal blocks and relays.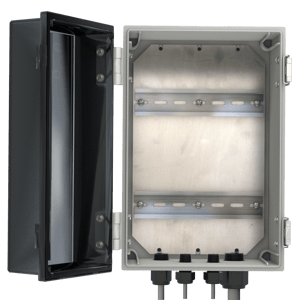 GRV-ENC-POLY-MD:
This medium-sized IP65-rated enclosure accommodates a groov EPIC processor mounted on a zero, four, or eight slot chassis (GRV-EPIC-CHS0, GRV-EPIC-CHS4, or GRV-EPIC-CHS8). Depending on the chassis you select, you can also include one or more groov RIOs. Or, just fill it up with three RIOs!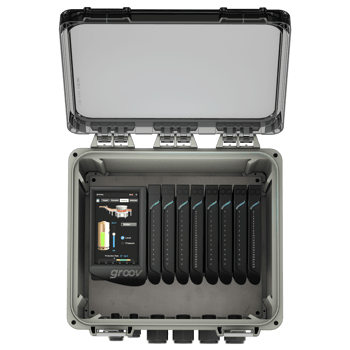 Some additional features you might like:
Pre-installed DIN rails for secure mounting of your groov RIOs and EPICs, plus accessories.
Pre-drilled and installed cable grips of various sizes for Ethernet, power, and field wiring to ensure a snug fit and maintain IP ratings, including plugs for unused penetrations.
Easy-to-open clasp locks create a tight seal.
For complete product details and mounting instructions, download the groov Enclosures Data Sheet.
NOTE: groov EPIC PR1s, power supplies, RIOs, and chassis are not included with the enclosure.