Opto 22 recently announced it has joined the Eclipse Foundation—the Sparkplug governing body and industry collective.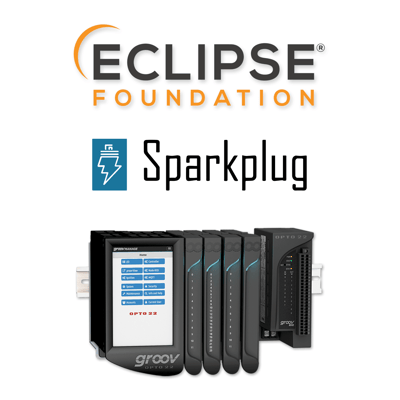 As an industrial automation and internet of things (IIoT) manufacturer, Opto 22 is dedicated to educating and influencing the direction of the MQTT IoT protocol. It's an important part of the product strategy behind our groov EPIC and groov RIO product solutions. Therefore, it was a logical step to join the Eclipse open-source software community to foster further collaboration and innovation around the MQTT and Sparkplug standards.
The Eclipse Foundation has been the home for open-source implementation of the MQTT IoT protocol since 2011, and introduced the Sparkplug Working Group in 2020 to broaden the adoption of the Sparkplug topic and payload specification for MQTT. The non-profit Foundation is currently supported by over 300 members and hosts over 375 open-source projects including runtimes, tools, and frameworks for cloud and edge applications, IoT, AI, systems engineering, open processor designs, and much more.
Opto 22 has always been known for its use of open standards and technology in conjunction with commercial off-the-shelf products. Remember, we were one of the first in the industry to add Ethernet connectivity to an industrial controller, and we continued to roll out open-source technologies like RESTful APIs, OpenVPN, the Linux® operating system, the CODESYS real-time control engine, and Node-RED.
Now, joining the Eclipse Foundation's Sparkplug Working Group will foster more open-source development. In a recent press release, Mike Milinkovich, executive director of the Foundation, stated that "with the rapid adoption of Sparkplug within multiple markets critical to industrial IoT, the group is in an excellent position to bring industry leaders together to drive standardization around this transformative technology. We are happy to welcome an influential early adopter in industrial automation like Opto 22 that can contribute to our goal of achieving new levels of interoperability across devices and vendors."
We couldn't agree more. And we're honored to be in great company. We'll be working closely with our tech partners and fellow proponents of MQTT/Sparkplug like Inductive Automation, Canary Labs, HiveMQ, and Cirrus Link Solutions (the original developers of Sparkplug).
We're looking forward to being a part of this developer community and working on some exciting new projects.
For more details, see Opto 22's complete press release about the Eclipse Foundation membership.