New video shows you how to use the Ignition Edge® MQTT Transmission module in groov EPIC to publish tag data from Allen-Bradley® PLCs.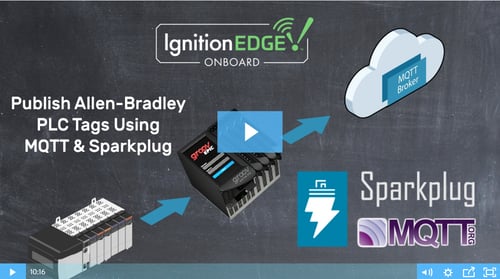 Why would you do this?
One of the advantages of the groov EPIC system is its ability to connect to third-party PLCs, collect their data, and publish that data to an MQTT infrastructure so that other software applications like databases, HMIs, and more, can use it. Connecting to your PLCs this way can help you secure your currently unsecure PLCs and unleash the data siloed in them, now.
This video shows step-by-step how to configure your groov EPIC and the Ignition Edge® software running inside to publish data to an MQTT broker.


What you'll need:
1. The IP address or domain name of a computer running an MQTT broker
2. A groov EPIC
3. Any of the following Allen-Bradley PLCs, accessible to groov EPIC via Ethernet:
Logix: ControlLogix® and CompactLogix® with firmware v21 and higher

ControlLogix with firmware v20 and lower

CompactLogix with firmware v20 and lower

SLC™ 5/05 PLC-5®

MicroLogix™ 1100, 1200, 1400, 1500


The video shows you how to:
Configure the MQTT Transmission module in groov EPIC

Launch Ignition Designer

Create folder structure & add tags

Commit & publish Tags
(If you're not familiar with how to configure an OPC-UA server on Ignition Edge®, you'll want to take a few minutes to watch another video in this series that covers this: Configure Ignition Edge's OPC-UA Server on groov EPIC.)

Thanks for watching!