Get your legacy equipment questions answered at an upcoming Control System Integrators Association (CSIA) webinar presented by Opto 22.
Look ahead to Opto 22's July event calendar and you'll see we're hosting a webinar with the help of our friends at CSIA. Members of CSIA are system integrators dedicated to sharing engineering, technical and business skills to help manufacturers and other end users improve their automation systems.
CSIA is hosting a series of Master Class demos in 2021, and we've partnered with them to cover an important topic in today's world of industrial automation: securely accessing and moving data from your legacy devices and equipment.
Register to join us July 7th for: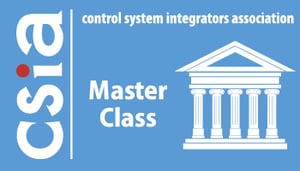 Webinar: Secure and Democratize the Data in your
Customer's Brownfield OT Devices
Date: Wednesday, July 7, 2021
Time: 8:00 am PST (10:00 am CST)
There are millions of legacy, brownfield OT devices at your customer sites still dutifully performing the tasks they were designed for. However, these same devices are struggling to find their place in today's digital transformation initiatives, largely due to lack of security and no support for modern IIoT protocols and payloads.
However, with the gateway functions built into edge programmable industrial controllers (EPICs), you can now add critical cybersecurity features to your legacy systems, while simultaneously democratizing the valuable operational data they harness. Using Opto 22's groov EPIC, this presentation will show you step-by-step how to securely protect and integrate brownfield PLCs and their operational data into a modern IIoT infrastructure.
If you are a system integrator tasked with helping your customers get new value out of their existing equipment -- particularly as part of a digital transformation – this presentation is for you.
In this 60-minute presentation and live demo, you'll learn to:
Address cybersecurity requirements in your OT and IT networks through segmenting and zoning.
Preserve and extend the value of your customer's legacy equipment through efficient data extraction.
Apply edge technology to reduce complexity, increase security and make you a control system integration Rockstar.
There will also be ample time for Q&A, so bring your questions!
Know someone who would benefit from this demonstration? Invite them to attend. This session is open to CSIA members and non-members.

Register to attend.