Advanced Control Solutions hosts your next chance to see the groov EPIC system in action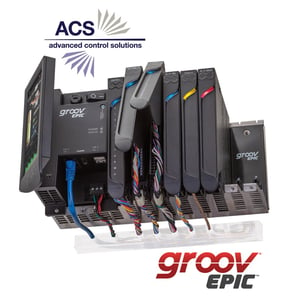 Join OptoPartner and distributor Advanced Control Solutions (ACS) for a groov EPIC webinar on September 24th.
An automation solutions provider for the Southeastern United States, ACS is also a regional supplier of the groov EPIC system.
At this live webinar, you'll learn how to add simplicity, security, and performance to your applications, with little reliance on IT personnel.
ACS and Opto 22 will demonstrate the software and hardware features of groov EPIC, as well as the advantages of combining real-time control and industrial edge computing.
You'll see why groov EPIC is the best choice for any industrial internet of things (IIoT) or automation application.
Register now. We'll see you there!
Day: Monday, September 24, 2018
Time: 2:00 p.m. - 3:00 p.m. EDT
(includes time for Q and A)
Presented by: Kyle Orman, Opto 22 Senior Applications Engineer
Hosted by: Cale Harbour, Advanced Control Solutions