The latest firmware release for all SNAP PAC controllers and brains introduces new features as well as addresses important bug fixes.
For all you SNAP PAC users, an important update is available now! SNAP PAC firmware 10.4c is ready for download.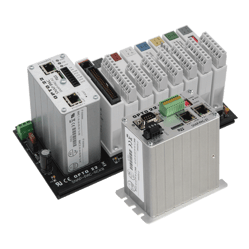 This latest maintenance release has some noteworthy updates you'll want to review. You can check out the README for a complete list of enhancements and bug fixes. It lists revision changes made to the firmware used in SNAP PAC S-series, R-series, and SoftPAC controllers; SNAP PAC EB-series and SB-series brains; and G4EB2 and G4D32EB2 brains.
Some new features included in version R10.4c:
Support for the Get I/O Unit Module States command
Configure thermistors on GRV-R7-MM1001-10 groov RIO modules
PID loop names are now included in the PID memory map area when PID loops are configured
There are also important fixes related to:
Redundant tables and variables
Communication Handle Command
ioControl strategy with PIDs download
Control engine host communication
Serial Communication Handle parameter
To get the best performance from your SNAP PAC system, we encourage you to update to firmware 10.4c as soon as possible.