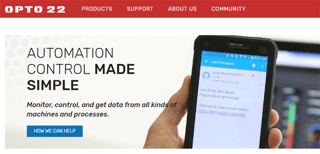 Let us know what you think. Come check out our new website at preview.opto22.com.
This is just a preview of what's coming—a chance to try out the new features and locate the new homes of the information you need: products, downloads, videos, documents, and more.
You'll find that this site is much more mobile-friendly, so it will scale to use on your phone or tablet when you're away from a PC or laptop.
Of course you can always go back to our regular site at opto22.com to use your MyOpto account or purchase products, or if you have any trouble finding what you need. The regular site will remain up for several weeks as we transition over.
Here are a few things you'll definitely want to see...
Try out the new Product Selector to find the products you use. The product selector is completely different from our current site. You can filter products based on their signal type, function, protocol, product family, and more. We'll be fine-tuning the results over time, so try it out and let us know how it works for you.
Find information on groov in Products > groov System. These pages will eventually replace the groov.com site. And we'll have a special announcement to make here a couple of weeks from now, so stay tuned.
A new Product Families section explains SNAP PAC, G4, and our other groups of products.
Under the Support tab you'll find a variety of handy resources, including Documents, Downloads, Videos, and the Opto 22 KnowledgeBase.
A gradual transition
This is a gradual transition from the old site to the new one, so some things won't work yet. We'll be adding them over the next several weeks. Here are a few things that aren't on the new site yet:
MyOpto—To mark favorites, change your subscriptions, sign up for training, and so on, go to the regular site. We'll be adding MyOpto functions soon.
Buying products—Cart functions aren't available yet, so to purchase products online, please use the regular site. Or just give your local distributor (or us) a call.
SNAP I/O Configurator—This fun tool for building your system will be added soon to the new site, but it's still available on the regular site. See the SNAP I/O Configurator.
You'll also notice that some pages (like the OptoBlog) will randomly appear in the old style with navigation to the old site. Later, they will all be the same.
What do you think?
We're looking forward to your comments on what you like about the new site as well as your suggestions for improvement. So after you've played with the site, please let us know what you think on the feedback form. The more specific your comments, the more we can improve the site.
Thanks for your help, and have fun exploring the new site!