Tech Briefs brings the latest technical news from NASA, the military, federal laboratories, universities, and commercial companies to automation designers and engineers.
And for April 2018 this respected magazine has chosen Opto 22's groov EPIC as their Product of the Month.
As Tech Briefs notes: "the groov EPIC® system...incorporates into one unit everything needed to connect and control field and operational devices and data through on-premises IT databases, spreadsheets, and other software to cloud storage and services."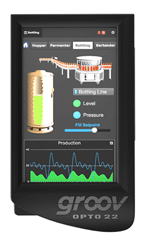 Yes, that's right. Real-time control, connectivity, data handling, and visualization are all included in the new groov EPIC system. It's ideal for industrial internet of things (IIoT) applications or for just about any automation application.
You'll find plenty to like, including all the software that comes with the groov EPIC processor.
Take a look at the new groov EPIC system and see how it can help you with your design, engineering, and manufacturing projects.