Take advantage of several new features, fixes and improvements in this latest release of the PAC Project software suite, R10.4.
Whether you use Opto 22's basic or professional version of the PAC Project Software Suite, you'll want to hear about some new features and enhancements just added to PAC Control as well as some fixes for PAC Display. Let's review the highlights.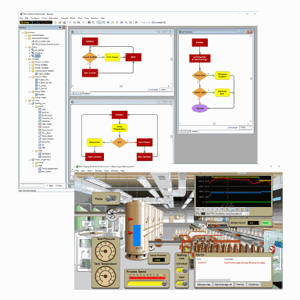 In PAC Control:

New operators have been added to the command line interface to configure the Public Access attributes of variables and channels
Added support for FastADC and Disabled channel types in
GRV-ITR-12
New digital channel 10-25 VAC for GRV-IDCI-12
Improved command writing for Get Module Counters
New scaling 4 to 20 mA for groov RIO modules (GRV-R7-MM1001-10 and GRV-R7-MM2001-10)
In PAC Display you'll find fixes for:

Updating graphics
Hint text wrapping
Configurator upgrades
*Important note for this R10.4 release, PAC Project no longer supports Windows 7.
For complete information about the R10.4 release and specific bug fixes, see the PAC Project Readme.
Get PAC Project version R10.4.
Do you still have questions about PAC Project Basic vs. Professional software? This might be the perfect time to try our interactive website demo to help you decide which is better for your application.
Or you can get more details in the PAC Project Basic and Professional Comparison Chart.
Enjoy the updates!