Opto 22 engineers discuss the latest news and happenings from the annual Ignition Community Conference hosted by Inductive Automation.
As an Ignition Onboard partner, Opto 22 was once again a part of this year's Ignition Community Conference (ICC). This annual event is a great opportunity for engineers and developers to network, get technical training, and learn from the Ignition software experts. You can meet with other Ignition users who are using this tool every day in all sorts of applications, from all over the world. Whether you're an advanced user or new to the software, you'll leave with a new perspective and set of ideas for your projects.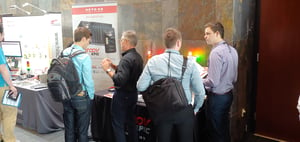 Opto 22's Senior Applications Engineer, Garrick Reichert, and VP of Marketing & Product Strategy, Benson Hougland were on hand to answer questions about how this Ignition platform is used in the groov EPIC system.
Timing is everything!

Just a few weeks before the conference, we released groov EPIC firmware update 1.4.2 which included some new options and exciting features for Ignition users. (In case you missed it, check out Ben Orchard's blog post: groov EPIC 1.4 means more Ignition.) Now you can select which edition of Ignition you run on your EPIC—either Ignition Edge or full Ignition gateway!


So, what did we observe from this community networking? Garrick and Benson shared their feedback with the Opto engineering team, and these were some of the key takeaways:
A ticket to ICC is in high demand and once again it was a sell-out crowd.

End users are excited about what they can now do with these tools, especially full Ignition on groov EPIC and Ignition's new Perspective module.

The energy level was once again remarkably high, and that interest and motivation was seen for the duration of the conference.

There were a lot of familiar faces in the crowd...many attendees come back year after year because they find it so valuable and want to expand on what they learned in previous years.

EPIC is living up to its name...several groov EPIC users and integrators stopped by to discuss how they are using the product and the problems it has solved.
Knowledge is spreading fast! Concepts like MQTT, Sparkplug, Node-RED, edge data processing, and Cloud computing are no longer foreign. They are being adopted and used in IIoT applications every day.


And of course some friendly competition never hurt anyone.
ICC wrapped up an action packed 3 days with the highly anticipated Ignition Build-a-Thon, which featured groov EPIC controllers on stage playing a key role for the second year in a row!
Inductive Automation's Co-Directors of Sales Engineering, Kevin McClusky and Travis Cox, squared off once again to see who could build the better project that included the unveiling of the exciting new Ignition Exchange. Check it out!
Did Team Travis put together back-to-back victories? Or did underdog Team Kevin upset and capture the win? Official video results from Inductive Automation should be forthcoming soon. In the meantime, the Build-a-Thon half-time show is available now and a can't miss!


Ready to ride this Ignition wave?
See how groov EPIC's software architecture can address your project challenges. Our pre-sales engineering team is ready to help. Email systemseng@opto22.com or call 951-695-3000.
Want to start designing your EPIC system online? Try our groov EPIC Configurator tool, then email your design to one of our engineers to discuss and review.