The results are in from Automation World magazine's 9th annual Leadership in Automation program.
Opto 22 has once again been recognized as a First Team supplier in automation for 2020. Hundreds of Automation World subscribers cast their votes during the past year which required them to write-in their ballot choices. Over two dozen categories were featured, representing a wide variety of automation technologies, software, and products used by today's manufacturing professionals across the discrete, batch, and continuous process manufacturing industries.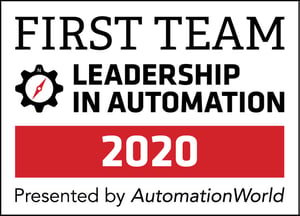 Opto 22 is honored to be named as a leader in the following categories:
Edge Computing
IoT Platforms
Mobile HMI/SCADA
PLCs/PACs
Data Acquisition Hardware including I/O
Energy Management
Thank you to all who voted, and continue to promote and support Opto 22 products and services. We always value your business and product feedback.
We are looking forward to introducing you to exciting new products this year, as well as providing more updates and advanced features to the groov EPIC system.
Remember we're always here to answer your questions, Monday through Friday from 7:00 a.m. to 5:00 p.m. Pacific Time. Whether you need technical support, want to spec a product, or just have a question about your application, we're here to help. Contact our engineering team today.