Last week's new video showed you how to activate Ignition Edge on groov EPIC. This week brings another new video in the Ignition Edge series: Configure Ignition Edge's OPC-UA Server on groov EPIC.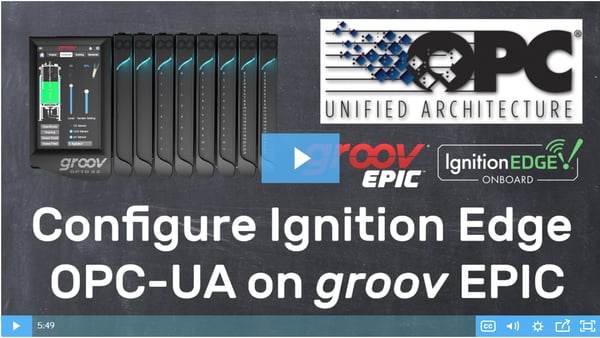 Now that you've activated an Ignition Edge® license on your groov EPIC, you're ready to use two key connectivity pieces for your IIoT applications: OPC UA and MQTT/ Sparkplug.
This video covers the first piece. Ignition Edge in groov EPIC includes an internal OPC-UA server and drivers for some of the most popular automation PLCs and devices: Allen-Bradley®, Siemens®, and Modbus®, as well as Opto 22 groov EPICs and SNAP PACs. So you don't have to set up and maintain an industrial PC in order to view and use data from these systems. Place your industrial groov EPIC with Ignition Edge anywhere and have the tools you need.
This video shows you:
How to configure Ignition Edge's OPC-UA server for use with groov EPIC

How to display Allen-Bradley PLC data in groov View
Get ready to watch and learn!