It's easy to access wiring diagrams directly through the groov Manage home page on groov EPIC or RIO.
Have you ever been wiring up one of the I/O modules on your groov EPIC and you can't remember which port that wire goes into? Good news....you can quickly find the answer by viewing the wiring diagram through your browser or the groov EPIC processor's touchscreen.
Here are some scenarios where you can use groov Manage to see some handy specs and wiring diagrams.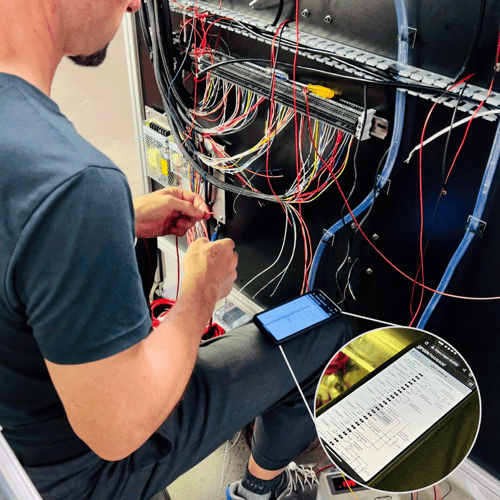 You are at your desk,
making a change to your automation application. Maybe you're adding a new device and wondering if a module already mounted on your
groov

EPIC
could handle the new device's signal type. Just log into
groov
Manage and:
From the Home page, click I/O.
Select the module you're checking, then click Info. In the Info tab:
Click Specs to see the module's supported signals.
Click Wiring for the field wiring diagram.
You are on site,
diagnosing an issue with a signal coming through a
groov
I/O module. You want to double-check that it was wired correctly. You can view the wiring diagram right through
groov
EPIC's touchscreen: from the Home page, tap I/O. Tap the module you are checking, then tap Info. The wiring diagram is the first thing shown to you.
You are off site
with your machine/equipment vendor, discussing an upgrade to your existing equipment. You are wondering if the
groov

RIO
monitoring the current equipment can handle the upgrades being discussed. Because you have a secure VPN connection to your
groov
RIO, you can log in to:
View your current I/O configuration: From the

groov

Manage Home page, click I/O Channels. In the Channels tab,

groov

Manage displays the list of channels, both currently configured and potentially available.
Find spec information to help you and your vendor match up signal types: From the

groov

Manage Home page, click I/O Channels, then Info. Click Specs to view all the spec information for supported signal types.
You are brainstorming on a new project
and you want to know whether an existing
groov
EPIC I/O unit has room for more modules and what other modules you may need to purchase to support some new devices. From the
groov
Manage Home page:
To identify how many slots are available on the chassis: Click I/O. The I/O page shows you any empty slots.
To review specs and wiring diagrams for all

groov

I/O modules sold by Opto 22: Click Info and Help, then Documentation. Scroll through the list of data sheets and click the one that lists modules you may need for your new project.
Hope you can put these helpful hints to use right away!
More questions when it comes to wiring with groov EPIC or groov RIO? Email our support team at support@opto22.com, contact us through the website or drop us a line in the OptoChat. We're here to help.