Recent website updates include a new design for your MyOpto account.
Have you logged in to the Opto 22 website recently? You might have noticed your MyOpto account has a new format and design. You can even upload a photo to personalize your account.
We encourage you to be logged in when using www.opto22.com as it allows you to:
Manage or activate all groov products and training classes
Update your profile information
Change your password
Add products to your Favorites list
Purchase products and access your online order history
And coming soon...
You'll have the option to Subscribe to product updates and save Configurations to your account.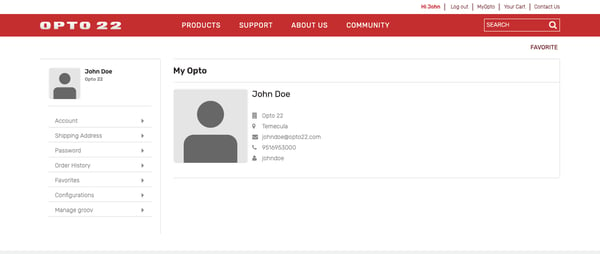 Have you checked out groov EPIC Premium Factory training yet? Your new MyOpto profile is where you'll activate your training class purchase and choose a class. Learn more about your EPIC training options.
Questions? Contact us and our sales and engineering teams will be ready to help.
Thanks for being a member of the Opto community!