Get help designing a secure industrial automation system with Opto 22's cybersecurity resources.
When you use groov EPIC or groov RIO products, you can rest assured you're getting cybersecurity ready products, right out of the box. There is even a groov EPIC Cybersecurity Technical Guide to help you design a secure system with step-by-step instructions.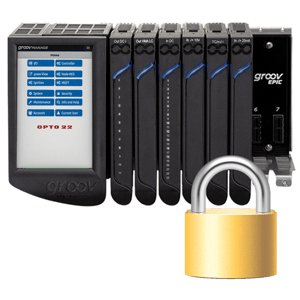 With cybersecurity being one of the top concerns in today's industry, we decided it was important to address all your questions on security. We've put together several resources in a single location on the Opto 22 website to help you better understand your options when it comes to building the most secure control system possible.
We encourage you to take some time to review the new Cybersecurity Resources page. The content is arranged by type and you'll find:
Product overviews with security features
Webinars featuring live demos of how to implement security measures
MQTT articles and webinars
Technical guides
White papers
Case studies
Blog series dedicated to cybersecurity
You'll see how Opto 22's groov family of products are designed to support secure architectures for modern industrial control networks, with features like user/client authentication, device-level firewalls, and SSL/TLS encryption.
Use these resources to learn about products, tools, and strategies that can help you build a secure architecture for your automation and IIoT projects.
Have more questions? Contact us today or leave a comment below.
Keep your data and your systems safe!